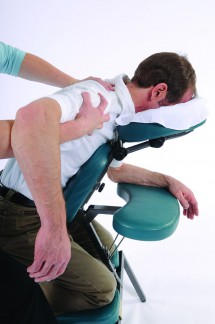 For Sellers If you're selling, having professional therapists on site can draw attention to your showroom, especially when you offer the chance to win gift certificates for massage that can be delivered to the attendee's room after a long day.
For Owners and Managers Your staff pulls out all the stops to make it happen for Market. Keep them going and show your appreciation with refreshing, therapeutic neck and shoulder work or a foot or hand massage. Quick, easy and delivered to your office or on-site staging area. Also, Gift Certificates for Massage make great incentives -- click 'Buy Now Gift Certificate' to order and print instantly.
For Buyers There's a lot to see and lots of walking. When you're done for the day and just want to rest, we bring therapeutic massage to your room or home. With a portable massage chair or table, soothing music and years of experience with outcalls, we guarantee you'll be glad you called.
Please call to discuss how we can custom design a 'thank you' that everyone will remember and appreciate.
Professional service for any budget
Please call
336-327-3217
Mary Ann Karlok, LMBT
227-A N. Spring St.
Greensboro, NC 27401
Downtown Greensboro,
one block from the Grasshoppers stadium